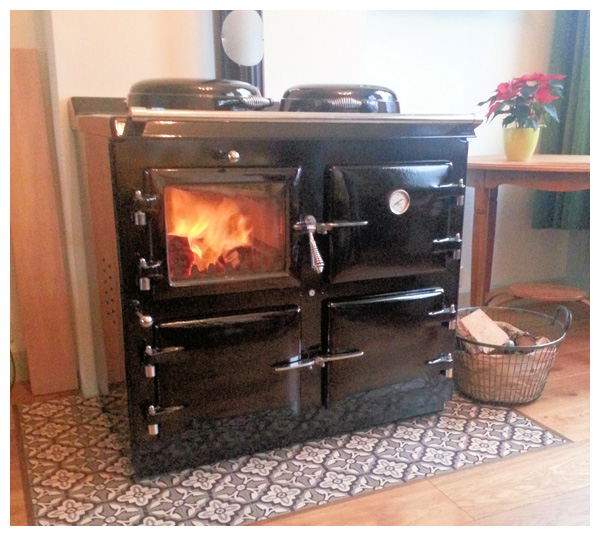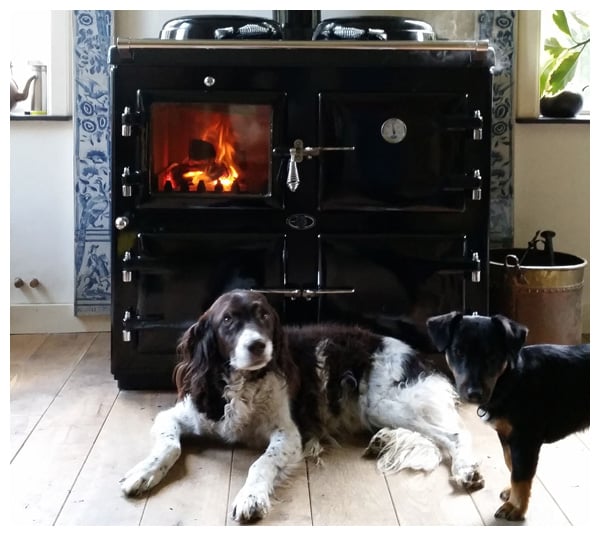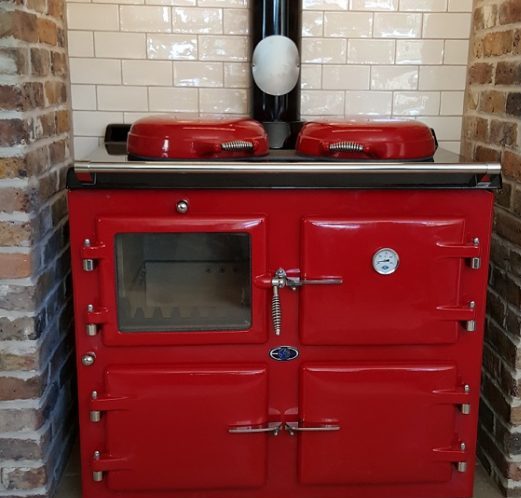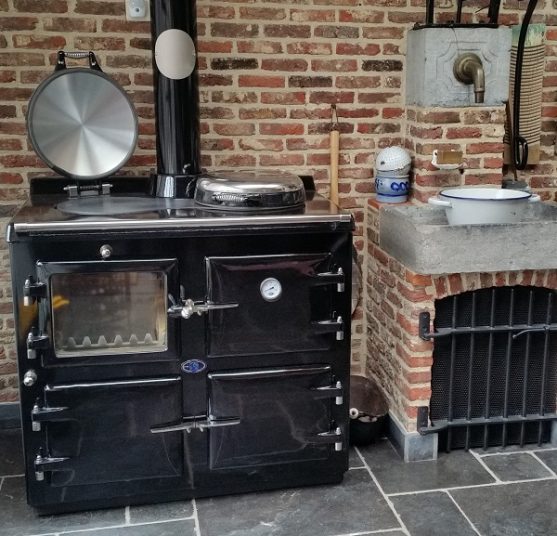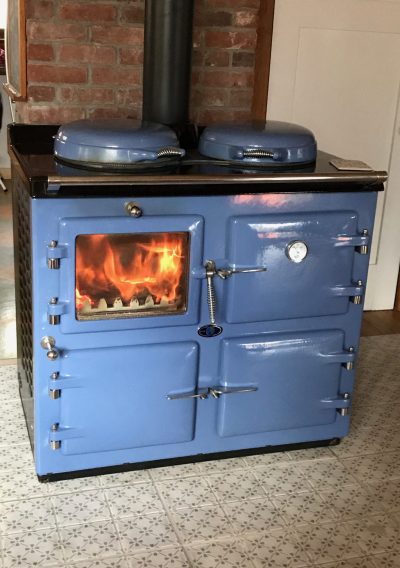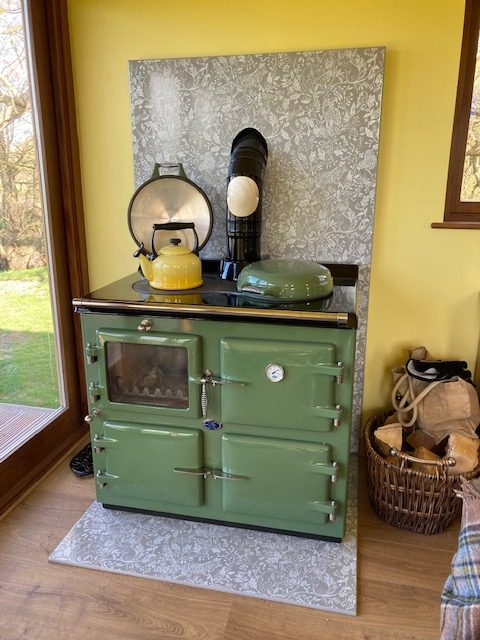 3 OVEN WOOD FIRED
CARBON NEUTRAL
85% efficient wood burning engine using the Patented Thornhill turbo system, this is the cleanest most efficient wood burning cooker available. Uses just 1 kg of wood per hour and can be heated to 180C in approximately 30 mins.
350mm side with fire box, 200mm back distance to combustibles
Description
TRADITIONAL 'BRITISH' TIMELESS DESIGN, BUT WITH PATENTED HIGH EFFICIENCY ENGINE.
This world leading cooker is so efficient, that from cold you can light the fire and be cooking at 180C is just 30mins. Then a 1kg log will last for over an hour, so a small basket of logs will easily take care of even the largest family roast dinner! The wood burns cleanly, leaving minimal ash and you can use logs up to 350mm (14") long.
WORLD LEADER FOR A CLEAN EFFICIENT BURN.
The Thornhill Eco Range wood fired cooker uses British Patented Turbo Technology & is a world leader for efficiency (lower running costs) and emissions. So clean burning it met the new 2022 EU Standards 10 year ago!
This combined with a 100% renewable fuel make the cooker future proof as well as a delight to own and cook on.
LARGE DOUBLE HOT PLATE.
The 2 large rings are connected in the middle allowing you to slide you saucepans around without damaging the centre. Plenty of room for 6 or more pans. Plus a slide control allows you to boost the hot side by opening it up direct to the fire. A true cooks cooker?
3 OVENS, 50 LITRES EACH. ( 35cm Wide, 27.5 cm high, 52cm deep) AGA Cookware will fit on the runners.
The 3 ovens give a total cooking capacity of world beating 150 litres. ApproX. temp difference between each oven is 30-40 degrees. All 'AGA' cookware fits our ovens.
All this and still giving 3-5Kw of radiant heat to the room. A nice cosy Kitchen on those dark winter evening, a glow from the fire and a glow knowing you are doing your bit. Put simply…
All this and still giving 3-5Kw of heat to the room. A nice cosy Kitchen on those dark winter evening, a glow from the fire and a glow knowing you are doing your bit. Put simply…
HEAT YOUR HOME NOT THE PLANET
Click here for further information, full technical details and installation advice.
                         This lady has 2 of my cookers and is a great cook, for fun and cooking ideas go to  THE DIVA
Reviews
'Ruby' has transformed our kitchen/diner. The fire has not been out since you lit it on Sunday and our electric cooker is practically redundant. We're learning about the inertia of heat loss and build up!
She is so efficient, we're hardly using any wood, and watching the flames and embers glowing while the rain is lashing down outside is a joy.
Thank you so much for your help in installing the chimney (and cooker), and for engineering such an amazing product.
Carol & Bob, Oxford
Just a short mail for an update on my wood fired range cooker I bought from you more that a year ago. This is our second winter, and it is amazing, we have a really cosy kitchen. The unit is fired non stop for 3 months, then on and off for a couple of weeks, it normally gets a rest from September to April.
Best kitchen appliance buy I have ever made, could not imagine my kitchen, cooking and life without it.
Dave, Namibia
The cooker is completely amazing: it looks fabulous and cooks like a dream – everything I have cooked in it has worked brilliantly, and I have been cooking non-stop! As you know it was hot enough to cook lunch 20 minutes after it was first lit. It is so easy to get it up to temperature and keep it there.
Actually, having grown up with an Aga, I think it cooks better, and is easier to live with, because it doesn't lose heat at crucial moments. I was concerned as to whether it would heat my 10.5m x 4.5m kitchen, but I have never been so lovely and warm!
Lizzie, 1 in her Italian home & her second one in her House in Oxford .
Hi Graham,
We are overjoyed with our spectacularly beautiful stove. Thank you so much!!!

I have attached a picture of it with its very first fire (just kindling in that picture—it looks quite ablaze!). I will send a better photo for you to show off if you would like. It is STUNNING! I can't stop admiring it.
Thank you again for making such a special product.
Wishing you happy holidays in spite of the world's insanity. Dec. 2020

Dorian Y , USA
Dear Graham and Frances,
We have been 1 year and 2 Christmas dinners with our fantastic 'Ruby' wood fired cooker, which has become the 'go to' place in our kitchen for people and dogs.
We used it constantly last winter and it's proving to be the same again this year. It has transformed what was a draughty, uncomfortable room into a cosy haven. The oven cooks beautifully; we use it all the time, and it coped wonderfully with the harvest lunches I cook for 20-30 people during October.
Wishing you a very happy, healthy and prosperous Yuletide and New Year.
Carol & Bob

Brightwell Vineyard http://www.brightwellvineyard.co.uk/
Many years of nearly daily use and still enjoying our 3 oven woodfired ECOrange cooker sooo much. The best advice we can give to anyone considering an Ecorange is to buy two of them. One for pets and children, to cosily curl up in front of it, and the other one for the actual cooking.

(They bought there cooker in 2013)
Mark & Sibby, Leiden, Netherlands