Testimonials
Don't take our word for it. We are extremely proud of the fact that we have a huge number of very satisfied customers, who love their Thornhill Range cooker. Here are some of their comments.
Good day Graham,
Just a short mail for an update on my wood fired range cooker I bought from you more that a year ago. This is our second winter, and it is amazing, we have a really cosy kitchen. The unit is fired non stop for 3 months, then on and off for a couple of weeks, it normally gets a rest from September to April.
Best kitchen appliance buy I have ever made, could not imagine my kitchen, cooking and life without it.
Best Regards
Dave Brown, Namibia
---
Dear Mr Barnes,
You are more than welcome to come and see the cooker Mr Thornhill installed for us. It is fantastic, and works just as well, and probably more efficiently than the AGA I grew up with.
I decided to buy from Mr Thornhill, not because of the price in the first instance, but because I had forgotten just how ghastly the standard of service and general attitude was from XXXX in Gateshead. I'm pleased they were so rude and horrid, otherwise I wouldn't have found Graham.
Sincerely,
Alex Nixon, Durham
---
There are no words that can ever thank you for understanding the love and joy and warmth and family that your range has brought us this winter in the mountains in Italy!!!
Just thank you from the McConnell family 800masl!!!
With love and success for 2016 to you.
Grazie grazie mille.
---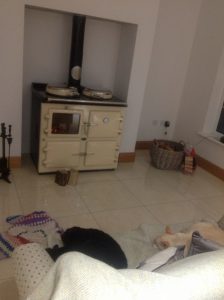 Graham
No bread baked yet but did the Xmas nut roast in it, delicious, happy Xmas and thank you for the cooker, as you can see the cats love it.
Best wishes to you and Frances
Benita and David  (Northern Island)
---
Dear Graham
We are absolutely delighted with our new 5-oven gas Thornhill range … It's honestly the best home investment we have ever made and was well worth the wait.  It has not only transformed our kitchen but changed our whole outlook regards family meals and catering for friends. It's an absolute joy to make family meals, to bake with (which has increased tenfold) and to air any laundry at night. Dishes cooked in the Thornhill range are definitely more delicious and succulent.   It's such a pleasure to cook on and our sons are extremely keen to try out new dishes and lend a hand with meals far more than in the past given this wonderful new centrepiece in our kitchen. The induction jobs are a joy to use (really glad we took on board your advice).
We cannot thank you enough for producing this new 5-oven gas range version. It really has added extra warmth, enthusiasm and fun to our home and the quality of our meals keeps rising as we experiment with new ways to use the range.
Well done Graham and Frances  – after considerable research into purchase and running costs, practicalities and all round benefits – this is certainly the best there is on the market!!!
G & A Sutherland, Ayrshire, Scotland
---
The Fireplace web, fireplace.co.uk
---
Graham, I just want to say how delighted we are with our gas 5 oven cooker.  It is really economical and a joy to use after our old Aga.  Since we got your cooker I have started proper cooking again after so many disappointments with heat failing etc, etc with our old Aga.  My enthusiasm for cooking has returned for which I and my partner thank you very much.  Also the hand painted tiles of the cherries by your wife, Frances are gorgeous and match perfectly with the cooker.   I will forward a picture of the whole set up later.  Kind regards, J. O'D. Sussex.
---
Hi Graham
Happy new year,
I can't tell you how much I love my range cooker, she's worked beautifully since the day I turned her on.
We had 12 for Christmas dinner and everything was cooked and kept warm to perfection thanks to the cooker, she is the heart of the house.
Kindest regards  AG, Devon (Pellet Cooker)