Wood Pellet 3 Oven Technical Summary
Operation
To operate the Thornhill Range Wood Pellet 3-Oven Range Cooker, simply add pellets to the hopper under the induction hob on the left and turn the cooker on. It can be set with a time clock to come off and on as required.
It then takes 20 minutes to bring the hot plate to 180 C and 40 minutes for the oven to get to 180 C. If the oven is already on at, for example, 100 C, it only takes about 20 minutes to bring it up to 180 C.
If the main oven is at 180 C then the second oven will be 30-40 degree less than that, 140-150 C and the bottom oven 30-40 degrees less that that 100-120 C.
To use as a room heater, you simply set up the clock to the desired times,( usually the same as your central heating clock). Then leave the oven on at a set temperature. Roughly:
100 C gives 1 kW to the room, 150 C- 2 kW and 200 C -3 kW (same as an AGA range cooker), so you set it according to how cold it is outside. In the summer because of the fast heat up you just turn it on and off a required for cooking.
Depending on cooker usage, pellets are poured in from around three times a week to once a fortnight. Ash is easily removed with a vacuum cleaner (about once a month or every 100 hours of burner fire).
The burner used is a new Polish burner made by Pellasx. It has a very good reliability record, is easy to remove ( 2 nuts and it slides out) and easy to maintain.  It has an extremely low carbon footprint. see Video Pellasx Mini to understand this superb burner.
INSTALLATION NOTES.
We sell direct from the factory except in a few circumstances. This mean the price can be reduced by 20-25% as there are no middle men. We have a showroom in Canterbury where we can demonstrate the different fuels, but often existing customers near you will show you their cooker, but I only can do this if you are seriously interested in buying a cooker.
There is also a small amount of preparation to get done before we bring your cooker to your kitchen and install it in place.
1st_ Do you have a suitable place for a wood pellet fired cooker? The width of the cooker is 1,500 mm wide and for the depth, please look at Cooker Dimensioned Side View . This is a wood stove and gets hot, especially behind. That's OK in a fire place or free standing against a masonary/plastered wall. If you have a wooden wall or plasterboard behind then you would need an air gap of 200mm or insulation of 75 mm depth to protect the wall. The sides are no problem, just leave a 30mm gap to allow air to circulate. A worktop of stone or granite can of course go right up to the cooker top. Just leave a couple of mm either side to allow for expansion. Please email us to discuss any siting problems like this.
2nd- Do you have a suitable chimney there. You can use a brick built or masonry chimney or have a 'chimney' constructed out of 'twin wall' flue pipe, (click for and example supplier). Best in the UK to got to www.HETAS.co.uk where you can enter your post code and get a list of chimney technician in your area. They will be happy to to advise and quotes to line an existing or supply and fit  a twin wall system. The internal diameter of the flue is 5 inches or 125 mm, and it must be able to with stand 600 C. It is a wood burner after all.
3rd- Floor. The cooker should stand on a non-flammable base. If you have a wooden floor you can lay a slab of stone, tiles or concrete, it should be over 3/4 inch  or 20 mm.
4th-Electrics. The induction hob requires a 13 amp supply, and the pellet cooker a 3 amp supply via a time clock.
Its as simple as that, but if you have any problems or questions email us at info@trcookers.co.uk , we can answer questions and send further diagrams and links if required.
Running costs – Just £450 a year for cooking & heating your kitchen!  Compared to £1,190 for electricity?
We've calculated that, based on our typical usage values, your pellet cooker could cost just £410 to run a year for all your cooking requirements, plus heating your kitchen.
| | | | | |
| --- | --- | --- | --- | --- |
| Number of days | Hours per day of range use | Heating temperature | Pellet usage | |
| 100 | 10 | 200C | | |
| 50 | 10 | 150C | | |
| 100 | 10 | 100C | | |
| 115 | Cooking only | | | |
| 365 | | | 1.7 tonnes @ £265/tonne | £450 |
Our figures are based on the following annual usage example:
100 days @ 200C
50 days @ 150C
100 days@100C
115 days turning on when required for cooking only (summer months)
Total usage: 1.7 tonnes a year @ £265 / tonne of pellets = £450 a year for heating & cooking
Many people with a range cooker and a log burner in the sitting room only use their central heating for the coldest 3-4 months of the year.
How does this compare to electricity?, There are 5 Kw hrs in 1 Kg of pellets, so in the above example 8,500 Kw hrs/annum are used, allow for 92% efficiency compared to 100% for an electric heater, then 7,820 Kw hrs of electricity would be use at a cost of around £ 1,190 a year!!!
But don't forget you will reduce your main heating costs by about 6500 Kw Hrs a year, so if you are on oil, you oil bill will come down by around £370 a year. This really means your cooker cost just £ 80 a year to run and it CARBON NEUTRAL & Low emissions.
Pellet usage – Thornhill Range Wood Pellet 3-Oven Range Cooker
| Oven temperature – oven left on continuously | Pellet consumption | Energy produced | Thornhill pellet range runs 85% efficiency so actual energy produced | Estimated monthly pellet usage based on running the system for 24h/day | Hopper fill |
| --- | --- | --- | --- | --- | --- |
| 180C | 10 | 200C |  2.4kw/hour enough to heat a 600 x 1200 double radiator |  400kg |  Every 2-3 days |
| 150C | 10 | 150C |  1.75kw/hour enough to heat a 600 x 600 double radiator |  295kg |  Every 3-4 days |
| 100C | 10 | 100C |  1.1kw/hour enough to heat a 600 x 600 double radiator |  187kg |  Every 4-5 days |
Price comparisons
Oil produces 10.2 kWs per litre so if oil is 60p/litre that's 6p/kW.
Pellets produce 5kWs per kg so if pellets are 24.4p/kg ( inc VAT & Del.) that's 4.9p/kW, a saving over oil of 20%.
So if an oil Thornhill range cooker cost £240 a year to run then a Thornhill wood pellet range cooker will cost £190. You can service one yourself if you want to make further savings.
An oil fired Aga range cooker uses about £830 of oil (@ 40p/litre) plus 2 services a year @ £110 each Total: £ 1,050 a year. (See here for Aga range cooker running costs)
Aga Electric range cooker running costs for the 3 oven are about £ 1,456 a year with AIMS controller. (See here for Aga range cooker running costs).
CO2 Emission comparisons
We have used the following figures from http://www.carbonindependent.org/sources_home_energy.htm
To make 1kW of energy from electricity – 0.53kg of CO2 is produced
To make 1kW of energy from oil – 0.27kg CO2 of is produced
To make 1kW of energy from pellets, 0.016kg of CO2 is produced
Log wood is considered carbon neutral.
| Range description | Annual CO2 emissions |
| --- | --- |
| Oil fired 2 oven AGA range cooker | 6.1 tonnes |
| Electric 3 oven AGA range cooker | 6.9 tonnes |
| Thornhill wood pellet 3-oven | Just 140kg a year! |
Wood pellet cooker Installation advise notes.
Wood 3 Oven Pellet Installation Instructions & User Manual
Wood 3 Oven Pellet Connection beside a wall
Now the very difficult bit WHAT COLOUR?. There is a very large choice, but if you email us your name and postal address we can send you 3 or 4 sample swatches as in the pictures. They are cast iron so quite heavy and I ask you to keep them till we deliver your cooker and then we collect them back.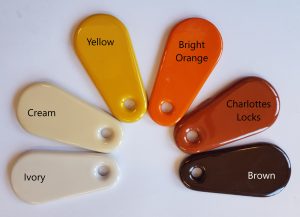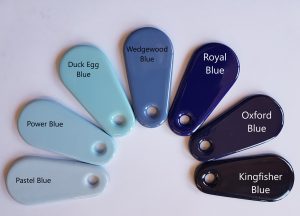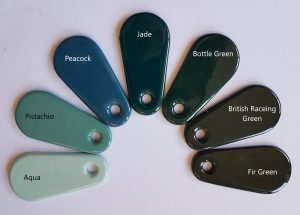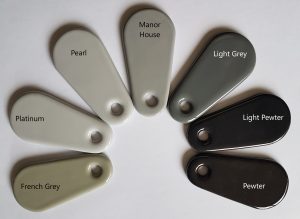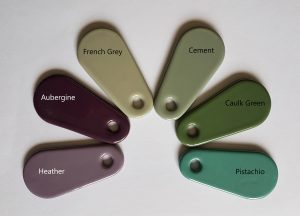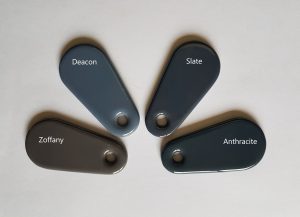 The cooker come in one piece, factory tested weighing about 650 Kg. So please advise any potential delivery problems, eg. flights of steps, tight corners or very narrow doors.