Wood Pellet 3 Oven Range Cooker
Carbon Neutral, Pellet 3-Oven cooker with induction hob
£8,950.00 inc VAT, delivery & connection to chimney.
Dimensions: 1,500mm wide, 910mm high, 710mm deep.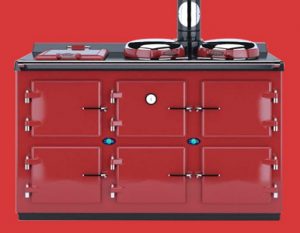 Easy to use, the Thornhill Range Complete Control Wood Pellet 3-Oven Range Cooker provides you with a choice of cooking options and gives beautiful ambient heating for your kitchen when you need it.
We're proud to say this oven is the world's first wood pellet range cooker and it has an ultra-low impact on the environment! To use, simply pour pellets into the hopper located underneath the induction hob on the left hand side of the cooker. The wood pellets are available in sacks and the hopper will need to be filled up from two or three times a week to once a fortnight, depending on how much the cooker is used.
We've designed the wood pellet range cooker to give you control when you want it. It can be set with a time clock, to come on and off when you want it, in the same way as your central heating system, or it can be simply fired from cold.
Ideal for 'off grid' living with a start up current of 400 Watts for about 5 mins, and average about 40 watts when running, little battery back up is needed.
Perfect for all types of cooking, the wood pellet range cooker gives you a combination of three ovens, two hotplates and an electric induction hob.
Not sure about which fuel to use, see our cooker fuel guide page, click here.
Prices: We have held our prices now for 7 years by careful cost control and selling direct to you the customer. Unfortunately as of Jan 2020 the following price list will be current. All order received and deposit paid by 10th Jan will be at the older price. Click here Jan 2020 price list.
Price £ 8,950.00: This price includes:
The Thornhill Range Wood Pellet 3-Oven Range Cooker costs just £8,950 including VAT, delivery, fitting it in your kitchen and connection to a suitable chimney, connection to electrics, commissioning and certification with local authority ( UK only)
Only extra is, Mirror polished domes on lids £ 220.00
We can bring along the flue pipe in gloss black and just charge for what is used.
Guarantee : 1 year parts & labour, 5 years parts except service parts ( grates, liners etc.)
Dimensions
The Thornhill Range Pellet 3-Oven Range Cooker is 1,500mm wide, 910mm high and 710mm deep. see attached diagram
Thornhill oven size: 357mm wide, 281mm high, 520mm deep. 52 litres.
Aga range Cooker oven size: 350mm wide, 260mm high, 480mm deep. 44 litres.
Click here for pictures. Gallery
Click here for all the technical information you could want! and here for a view of the new burner we are using.
For colours, please click on the Virtual Configurator and design you own cooker.
---
What do customers say:
Hi Graham, I can't tell you how much I love my range cooker, she's worked beautifully since the day I turned her on.We had 12 for Christmas dinner and everything was cooked and kept warm to perfection thanks to the cooker, she is the heart of the house.
Kindest regards, AG Devon.